DCFUganda has been renewed again and again.  It is time to report the news!  Emmanuel produced a budget that we are still working on.  It allows tighter financial controls, but more importantly, it came about from the successes in the newly built wood shop!  The shop is generating revenue!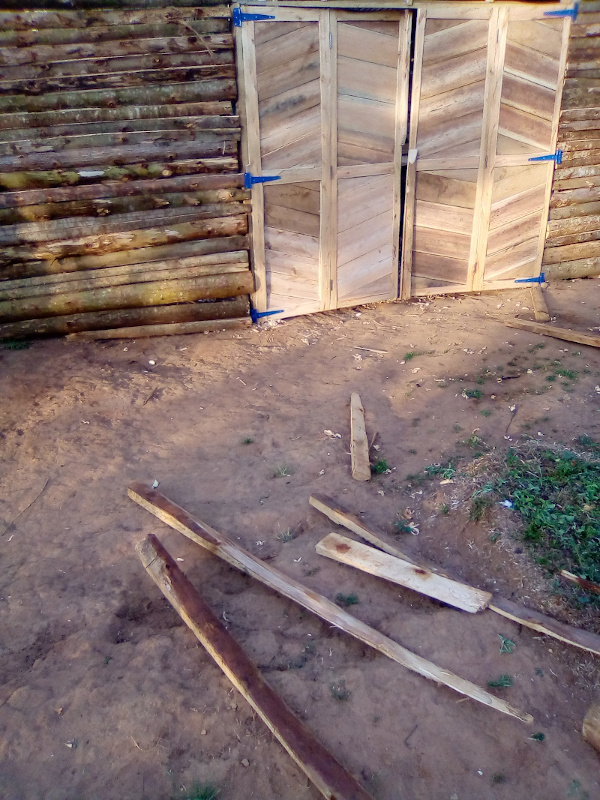 The doors are the final step in the completion of the shop, and already it is creating a small income!  Pictures of the beautiful products will be in the next posts.  The amount and quality of work done by Emmanuel and John amazes us, and we can only imagine what good things will come of this shop.
It was a difficult winter in Uganda and America, with matching political turmoil and emotion.  Covid-19 also tried to wreak its havoc on us.  David, our board member in Arizona had a serious bout with it, along with his wife, their pastor, and several good friends.  We prayed for each other and our nations during the stress, sickness, and violence, and continue to pray as the season of chaos diminishes.  It hurts us to see our nations divided.  For a while, our U.S. contact with Emmanuel went silent due to internet stoppage.  We joyfully report that once we heard from him again, the news was good.  All the Arizona members and friends recovered except one, and we give thanks.  The friend who died had been seriously ill for years, in and out of the hospital, but he was at peace with God and went quietly after a long struggle.
People have been helped directly in hard times by the work of DCFUganda.  When the basic needs of Ugandan society suffer, the poorest of the poor cannot even get salt or other basic needs.  DCF has been there with food and the most basic supplements.  Children have been idle as the schools remain closed.  These are trying times!  Emmanuel has been able to directly intercede, and the gratitude reports are overwhelming.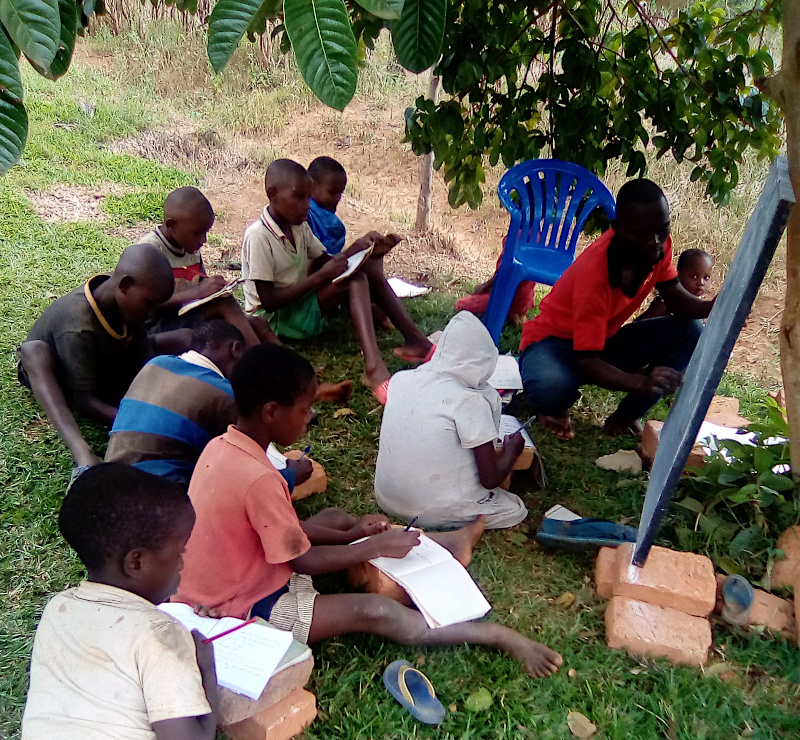 Conducting impromptu outdoor school is a blessing for the children.  A recent graduate has been helping by giving classes in the grass, under the shade of the trees, with stacked bricks as school desks.  You can see the eager attention of the children.  Again, we thank God for his provision and love.
We report with big smiles and congratulations that Pete finished his coursework in Michigan and now ministers to us as a confirmed and ordained Chaplain!  (It makes no difference to us — he has filled that role flawlessly since the beginning.)
All of us can imagine a better world, free of struggles like these.  However, we cannot imagine better servants in times like these than our friends and associates at DCFUganda.
Please, please keep us in constant prayer.  Pray for Emmanuel and his leadership.  Pray for strength and constant intercession in the work of DCF.  Pray for John Bosco and the shop, and for the children and their education, and for the widows and orphans and their basic needs.  Pray for each other, and pray for our nations.