We, in America, recently provided Emmanuel at Donation Connection Foundation (DCF) a hammer and a saw when we discovered he had to "rent" one.  He built a new chicken "coop" after a storm knocked down his rickety one.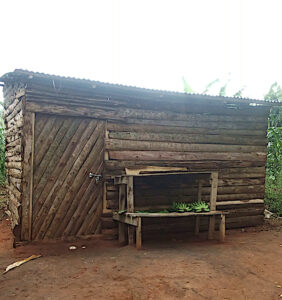 The replacement coop is strong, secure, and an impressive work of carpentry.  A hammer and a saw.  And the Word of the Lord.
Right now, Emmanuel Tumusiime and John Bosco are building a wood shop.  We first learned about it when Emmanuel sent pictures of the posts secured in concrete. The shop will double as a small manufacturing facility for beds and training center for carpentry skills.  It will also provide a secure place to store the accumulating tools and materials of the business.
It rained the next day, but again Emmanuel sent photos the following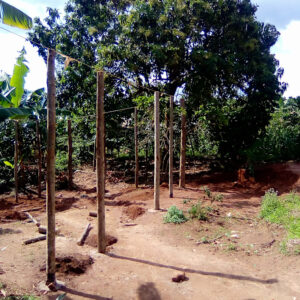 morning.  The men were setting the beams.  Next, they will side and roof the building, and have the shop completed.
There is plenty of energy and ambition in Uganda.  All of us have soaring hearts for the work.  We quickly sent an additional small donation to help with any needed tools or materials, and some extra cash for food and living expenses while John and Emmanuel work on this project.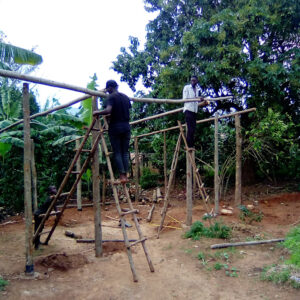 In my own mind, the most remarkable illustration of Emmanuel's  heart comes from one thing: he has never asked for any money.  Never once.  He tells us what they are doing, sends pictures, and asks for Christian mentoring.  He eagerly works to learn what God wants him to do.  And then he does it.
In the past, "donor burnout" has negatively affected many of us.  The needs never end, of course.  Our sin and failed understanding make it difficult to send hard earned money into the world's sinkhole of need.  But DCF is so different.  These men are not exhausting the supply.  They are multiplying it!  It is glorious!  We sincerely believe the Word of God directs them, and we are excited to learn what will happen next!  It is easy.  As the Apostle Paul said, "when each part is working properly, it makes the body grow so that it builds itself up in love."
"Rather, speaking the truth in love, we are to grow up in every way into him who is the head, into Christ,  from whom the whole body, joined and held together by every joint with which it is equipped, when each part is working properly, makes the body grow so that it builds itself up in love."  – Ephesians 4: 15-16