You may call this a trick question.  After all, nobody speaks for God.  God speaks for Himself!  That remains true always.  God finished creation by Himself.
Yet in our lives, we are called to speak.  We are called to do.  We are called to bind things together and split things apart, work in due season, go out in twos, plant and reap.  We are called to judge — not to judge others, but the actions of our world, especially our own.  One of the big questions, worth answering, is, "What have I done today to advance the Kingdom of God?"  Sometimes more uncomfortably, we may ask, "What did I avoid today that would have advanced the Kingdom of God?"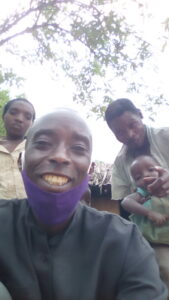 At DCF, we have a habit of asking those questions of each other.  We are all grateful and in awe of what God is doing for us, so the questions are encouraging and exciting.  What we have done is simply open doors.  From our views in Michigan and Arizona, it seems to be all about "What has Emmanuel done to steward God's resources?"  God gave us a wonderful friend, brother, coworker, visionary, and director.  God provided Emmanuel with a gift of stewardship.  He gave him a converted heart, love and compassion, and a good mind.  One of the most encouraging things we can say is, "Emmanuel seeks to do God's will."  What could be higher praise?
One struggle most of us deal with is our own selfish corruption.  We know it, we identify it, and we follow it more often than we care to admit.  We spend large chunks of our time pursuing "me first."
If you overcome that, God has richly blessed you.  For most of us, we can only work at overcoming, and that work is usually vain.  "I want to be better," is a wish.  "What can I do?" is a goal.
Where do we find our answers?  "Dear Lord, speak to me your will," requires us to put feet under dreams, and ignore the foolish voices around us.  The prophet Jeremiah (29:8-14) warned us, "For thus says the Lord of hosts, the God of Israel: Do not let your prophets and your diviners who are among you deceive you, and do not listen to the dreams that they dream, for it is a lie that they are prophesying to you in my name; I did not send them, declares the Lord."
"For I know the plans I have for you, declares the Lord, plans for welfare and not for evil, to give you a future and a hope. Then you will call upon me and come and pray to me, and I will hear you. You will seek me and find me, when you seek me with all your heart. I will be found by you, declares the Lord, and I will restore your fortunes and gather you from all the nations and all the places where I have driven you, declares the Lord, and I will bring you back to the place from which I sent you into exile."
What glory comes from sacrifice!  It does not come to us as sacrifice, though.  The gifts we see at work are more like finding God, but God was never lost.
Tagged: Tags God's will Jeremiah 29 prophets deceive you sowing and reaping speaking of God